Written by Molly Hankwitz, June 2020.
The secret society, The Suicide Club was founded by Gary Warne, Adrianna Burk, David Warren and Nancy Prussia in San Francisco in 1977 and was finished in about 1982.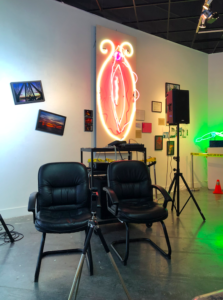 In August, 2019, a gallery talk about their work was held at Pro Arts in Oakland as one component of the retrospective exhibition SIGNMAN: JOHN LAW curated by Natalia Mount.  This talk was a nod to the longevity of artistic friendships forged in the past; a time once lived and the "now" of being there either "then" or surviving to the present. The gallery was full and one time members of the Club sat in the audience.
While such underground groups and events (there were many) have yet to be dealt with much in scholarship, their anarchical free-thinking and unconventional methods are relatively notorious. It was a distinct pleasure, thus, to spend an evening with ingenious prankster and co-creator of early Burning Man events,  John Law  and the curious Don Herron, originator of San Francisco's Dashiel Hammett walking tours and a Suicide Club member. It promised much as an authentic and accurate historical account.
Law and Herron sat for an hour and described escapades for which the Club is known. It was not about suicide, of course. That was never a prerequisite for Club participants as the name might suggest. Club members did need, however, to participate in street theater and pranks (see links below). Thirty members once rode the San Francisco cable cars naked and made post cards commemorating the event. Elaborate games in odd locales and numerous explorations, urban and otherwise, of abandoned industrial buildings, cemeteries, sewers, tunnels, waterways, and on bridges were also popular.  The "Infiltrations" –the Unification Church and The American Nazi Party — two of the most daring — resonate with later media hacking-type actions such as those of The (notorious) Yes Men.
It is difficult to portray correctly enough how works of "live" art, especially without video documentation, were received or how they impacted other artists, suffice to say The Suicide Club is particularly elusive due to its aura of secrecy.
According to Law, it was a semi-formless, ad hoc, and action-oriented conceptual idea and this is what makes the art difficult to describe, much less define, even after being a participant.  There were illegalities, for sure, such as nudity or trespassing. Newspaper articles and group photographs in which members appear in costume, often broadly grinning which suggests that their mad-cap approach was at least in part to see what they could get away with; or an orientation toward "thrill."  Between the top-secret dramatic locations, the scant documentation, and unpublished scripting, these actions were also an art of liminality, or "impossibility"; deliberately defiant of categorizations. You had to "be there." Radical gestures such as public nudity and disruptive challenges to "business as usual" gave them a legendary, edgy status in their own time, once again earned by The Cacophony Society (which emerged from The Suicide Club) with its larger, more visible public works such as Santa Con.  They influenced many artists then and continued to influence the scene well into later decades.
Particularly memorable were detailed descriptions about the effort and care  which went into the weeks of planning. Participants could be just about anyone that other members invited who were willing to go along with the group. Thus, "joining" was somewhat random or "word of mouth." New figures would be involved in the preparations, but it was a  seminal figure such as the late Cary Galbraith (a founding member of The Cacophony Society and co-author of the book) and the vibrancy of San Francisco's experimental scene that made the work (and this research) unforgettable. What underground groups like the Suicide Club (and there is no other group quite like it) were doing with art; what statements they were making with their ideas drove much of the free-form ethos within the San Francisco arts culture of the time.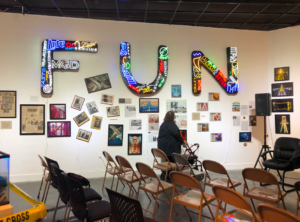 Cover up
The art scene here is notorious for standing conventions on their head. One thinks of gay liberation art made in the Bay Area when gay rights barely existed, some of it by the Suicide Club, or the legacy of women's performance which emerged with great force in the 1960s and 1970s. Artists here have long shelved notions of the frame, the wall, the podium, and  white gallery space in an all-out rejection of "the art world." In its place is a kind of anarchy of the body in space and time.
The work of The Suicide Club was no different and in fact pushed the boundaries of such art. They challenged normative "reality" and the control of public space. They disobeyed conventions of public "safety" as if to condemn playing things safe. Indeed they provoked  with their wacky pranks new sensations of being public as much as they staged these events as a form of self-liberation. Riding the cable car together naked and writing postcards along the way to document the event, playfully engaged with both boundaries and social conventions. The more private experiments which immersed participants in their were seemingly expressions of the fact that the point of art is to engage experience not passive consumption.  In an age, now, where all kinds of art are promoted with data-gathering smartphones and surveillance as part of a market place model, this anti-consumption viewpoint takes on fresh meaning.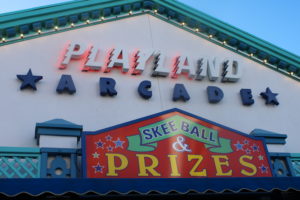 Multiple screens and the effects of social media, depending on who controls of the device/platform/information,  display artistic endeavors as thinly-veiled augmentation of a sterile capitalism, which circulates and mainstreams its artifacts whilst subjecting them to market research. It is as if this distanced seeing/experience were enough in some cases, or at least as if it were a replacement for experience. Many exhibitions are now packaged and prepared within this formula of art tourism where the demands of late-capital and its catastrophes are ever more reliant on data and image gluts the function of which are to justify a falsely, connected reality of capital itself: the art of seeing, selling and owning the idea. Art  – as experience – is thus found falling backwards into a quantification of itself, through multiple practices and spreadsheets from cultural research and analysis to the database of yore. We know what art is doing for society and the economy, but, the assumptions behind these formations of creativity are egregious. The work of art becomes a game.
John Law, for whom the SIGN MAN exhibition was created, is a professional artist, but his unconventional work has rarely intersected in predictable ways with any official "art world". As a leader of the Billboard Liberation Front, a group that  was "fueled by a single passion: the timely improvement of outdoor advertising" (see link below), he made a practice out of climbing up to interstate billboards and altering their meaning. Law has thus almost always maintained an artistic career which is out of bounds. Law has always loved climbing and so he did it, whether to reach a billboard, or as part of a Suicide Club event. And it is this kind of practice which encourages one to think about the Club's formation of the city itself, though incomplete and never precisely stated. Their formulation would appear to be, however, from the manner by which they used it, a giant and malleable space in which to do art and to play. Process if not genuine artistic desire to re-code one's practice as an artistic retreat  was completely central to the group. The experience of art would take prominence over the control of space. It is this liminal sense of possibility which makes the work compelling.
Legacy
Post-1960s, American experimental artists sought identity. Some went to art school, some, like the Beats, invented their own path. Some did both, rejecting one idea to create another or finding one because of the other.
The conscious (and conscientious) formulation of an ethos which embraced artistic freedom and experimentation  was key to art practices from Fluxus to Ant Farm to the Suicide Club. Law described scouting for vacant structures, waterways, accessible rooftops, empty warehouses, anchored ships and how he would study how to access these places. The off-beat locations would then become an immersive world for the artistic event to be collectively defined and carried out. Through these place-based events, The Suicide Club established an art practice away from surveillance in what Cary Galbraith affectionately called "the zone." The methodology resonates now as communications networks, public and private space become increasingly controlled through surveillance.
California seems to beget as an "open" canvas and landscape of a multitude of cultures, forms extreme experimental spectacle in art and a counter-culture which is defiant of social "norms" – the gay, straight, long-haired, black, white, latinx, feminist  are set againsta "real estate class" which owns the police and the stereotyping of individuals. This socio-cultural realm in which artistic oddity was pitted, often, against a state-controlled urban landscape, was one of the many intellectual backdrops behind the formation of The Suicide Club and later The Cacophony Society. These groups both inhabited urban space in unique ways and with an economic freedom of time and space slowly disappearing in the Bay Area.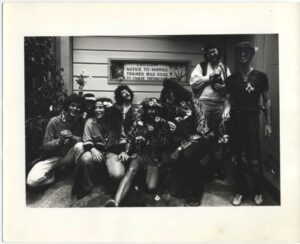 In an earlier interview (conducted with David Cox at Law's studio) Law and Galbraith described one event where lines of a script and directions were typed on a typewriter intended as a prop as the group went along. Props, space, ideas were all fluid and open to change, similar to the way in which VR or game worlds adjust according to the player's choices and provide a changing physical atmosphere. Desires would unfold, semi-according to a plan which itself was fluid. No one knew what was going to happen and only members had any knowledge and would participate. Makers were the same as audience.
Once, Law told us, as if providing comic relief, that they all dressed up, each as a different animal, and got on a MUNI bus. "I mean, who was going to arrest a bunch of people dressed as animals," he queried.
Their logic as a Club was clear enough. The Pro Arts audience nodded and smiled. Some of the smiling artists had  been there, all dressed up as animals. "Only about 20 people would know anything at all," Law stated when asked about secrecy. He then went on to recount how the women in the group were often challenged to learn new skills.  Word processing or food preparation, both occupations practiced by mostly by women of the post-60s geneartion, would be given up for climbing a long rope to reach the third story window of an abandoned site or swimming in freezing-cold water instead. As merry, pranking artists, the Suicide Club engaged in these events for the benefit of the experience. Similar intent, although by commercial design, can be seen in "pirate parties" from the early 2000s and contemporary "escape rooms" which can be had for a high priced ticket and reservation.
Artistic impulse towards event/performance/exploration has a long history. Starting in the 1960s with Joseph Beuys' action-performances, John Cage's anarchical influence, the many Fluxus festivals, Woodstock, feminist performance, psychogeographies of the Situationist Internationale,  the impulse to re-route the logic of art and capitalism, became prominent. This artistic movement towards a more immersive art, less object-oriented and less about "product", found  in the unfolding trajectory of early video art and action performance, then later in video installation, can be seen in the large, collective, "networked" performances of Suzanne Lacy from 1978-79 onward or in The Cacophony Society's Santacon "first flash mob" spectacular which emerged in the 1980s (100s of Santas descending simultaneously on Christmas in the city's downtown).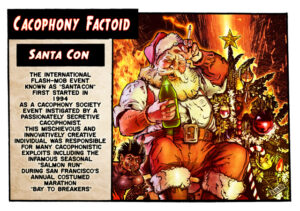 Contemporary immersive artworks which have their history in experimental film and in new media/video installation, are now being produced as VR and AR projects. Their strengths as environments has had two main directions. They can be designed to allow viewers "to interact" with virtual elements and narratives analogous to a "game world" — the most obvious analogy for immersive display – as well as to open the concept of world-making to collective input (think Minecraft) and to "game-changing" where game-space and "storyline" and characters are created by the viewer/players. The other direction, of equal if not greater power, due to its more direct route to the senses, in terms of experience, is the use of programming and visuals to re-direct the accepted platitudes of game play (frequently the thought processes of military industrial entertainment) in order to produce shocking, surprise effects and experience for the viewer/participant. In these works, viewers identify with and experience the emotional landscapes of others and learn to judge the formulations of "navigation" from a critical standpoint.
Tamiko Thiel and Zara Houshmand's (with activist Susan Hayase)  VR installation, Beyond Manzanar, first produced in the 1990s, has been recently revamped as an immersive installation and expands on mainstream concepts  "game-worlds" to raise questions of "the connection between the racial profiling and scapegoating that led to mass violations of Japanese  Americans' rights and the similar fear and hate-mongering aimed at Iranian Americans during the "Iranian Hostage Crisis" (November 1979 to January 1981) to those who experience the art. Beyond the expectation of play that is inherently part of the VR spatial imagination, Beyond Manzanar is a highly controlled  "experience" in which, despite the choices of movement which a participant might expect to "get" or to "want", the viewer/participants find themselves imprisoned inextricably or bombed from above in locations associated with beauty and peace. The logic of "freedom" is undermined by the reprogramming of spatial expectations, through the subversive mapping of Japanese and Iranian cultural spaces deployed visually and technologically. Arguably, this intent to immerse the viewer in an unfamiliar logic, so as to job them out of their everyday way of seeing is close to the intentions of The Suicide Club when they sometimes took up a perilous 'playspace' for the pleasure of experiencing what was unanticipated. Both artistic efforts utilize immersive reality for purposes of experimental investigation into ethical and meaningful action as well as to critique social norms and convention.

Beyond Manzanar stills from video.
John Law's retrospective, SIGNMAN: JOHN LAW, a collection of neon-works, photographs and small sculptures made by Law, referred frequently to transgressive movement, including the use of police tape, the adumbrated billboards; and, even the unlikely publishing of the work in magazines and newspapers at the time. Ultimately, the work of John Law, notable for his close association with small groups and cadres of artists from Communiversity to The Suicide Club to the Billboard Liberation Front to the Cacophony Society can be seen as a deep and authentic understanding of public and private space and the impact that art, especially anarchical art, can have on that space.
These works and the work of The Suicide Club and The Cacophony Society speak to the desire of artistic networks of the past to support uncontrolled expression or to define meaningful art amidst the encroaching surveillance, taxing of flows, gated communities; order, homogeniety, and privatization of cities.
—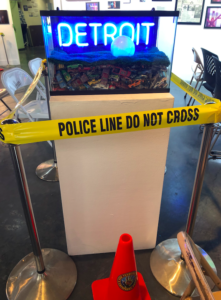 Exhibition at Pro Arts Gallery, Oakland, CA.
August 2019
https://proartsgallery.org/event/signman-john-law/
Links and Resources
Photo of the Reenactment of the Summer of Love by Greg Mancuso,
All other photos (with exception of Playland, n.a.) courtesy, Molly Hankwitz.
The Suicide Club archive – https://www.scribd.com/document/213747288/Cacophony-Society-00-Lanc
The Suicide Club chronology of events – http://www.suicideclub.com/events/
Suzanne Lacy Performance/Installation – https://www.suzannelacy.com/performance-installation
Beyond Manzanar – https://sjmusart.org/event/creative-minds-tamiko-thiel-and-zara-houshmand-susan-hayase